Disclosure: This shop has been compensated by Collective Bias, Inc. and its advertiser. All opinions are mine alone. #BigelowTea #TeaProudly #CollectiveBias
Tips to help you beat a sedentary lifestyle so you can celebrate a new you in the New Year.
The New Year is always a time for reflection and goal setting.
As a travel writer, I spend a lot of time between destinations sitting at my desk. Even when I'm traveling, I often sit behind the wheel of the car or sit in an airport or on a plane. Sure, once I'm at my destination, I'm pretty active (depending on the itinerary) but that is only a small part of my job. When the trip is over and I'm back home, the real work begins. I spend hours after each trip organizing and editing photos, writing blog posts and social media updates and sometimes creating a video. For every trip I take, I easily spend 60+ hours or more sitting at my desk working.
When I have deadlines, it's not uncommon for me to wake up early to work and continue working until my husband comes home from work. When I'm swamped, I even burn the midnight oil, staying up until the wee hours of the morning. It may sound productive, but I've learned that I work better when I take a few breaks and step away from my desk to do dishes, start a load of laundry or drink a cup of Bigelow tea.
This year, I plan to get back in shape and improve my health. That means less time sitting at my desk.
It's been proven that a sedentary lifestyle leads to obesity, diabetes, heart disease and a whole host of other health problems. I'm already overweight and nearing the big five-oh (boy does it pain me to write that), I'm becoming more mindful that the last thing I want is a disease that I could have prevented if I had only taken the right steps.
Which leads me to my plan to regain my health, literally one step at a time.
A sedentary lifestyle is also called sitting disease. Those who take less than 5,000 steps a day are considered sedentary. When I'm home, I typically fall somewhere in between 5-7,000 steps, on a good day. But my goal is to reach a minimum of 10,000 steps on a regular basis, which is considered active.
How do I plan to do this? With a lot of little breaks throughout the day. If you'd like to be more active, you may want to follow some of these tips as well.
13 Tips to Help you Beat a Sedentary Lifestyle and Ease into a More Active Life
Set an alarm.
Since I work from home, I'm essentially my own boss. I recently learned of the Pomodoro method of time management. In a nutshell, you break your work down into intervals, followed by a short break. The intervals or pomodoros, are traditionally 25 minutes with a 5-minute break. After four pomodoros you take a thirty-minute break. A timer is essential to helping you succeed. When your timer goes off, you drop what you were doing and take a break. The Tomato Timer is an online timer that helps you stick to the method.
You may not think you can do a lot in five minutes, but I've found that I can run up and down the steps a couple times, grab a cup of tea, load the dishwasher, throw dinner in the crockpot or simply stretch for several minutes, all tasks that get me away from my desk. And the longer break gives me enough time to take my dog for a quick walk around the yard- which he LOVES.
This method does take a bit of planning. Since January is Hot Tea Month, I opted to grab a cup of Bigelow Geen Tea with Mint, available at Walmart, plan out a schedule. I simply list tasks in the order that I hope to complete them. Then I set my timer and get to work. Working on one task at a time rather than multi-tasking has increased my productivity and the breaks keep my brain from getting bogged down.
By the way, incorporating Green Tea into your diet has benefits of its own that may include improved physical and mental health. You can visit the Bigelow Tea website to learn more about the possible benefits and to learn about the companies commitment to excellence. Learn about Bigelow's mission and how you can TeaProudly when you drink Bigelow Tea.
If you'd like to try Bigelow Tea, simply click on the image below to make a purchase. How cool is that?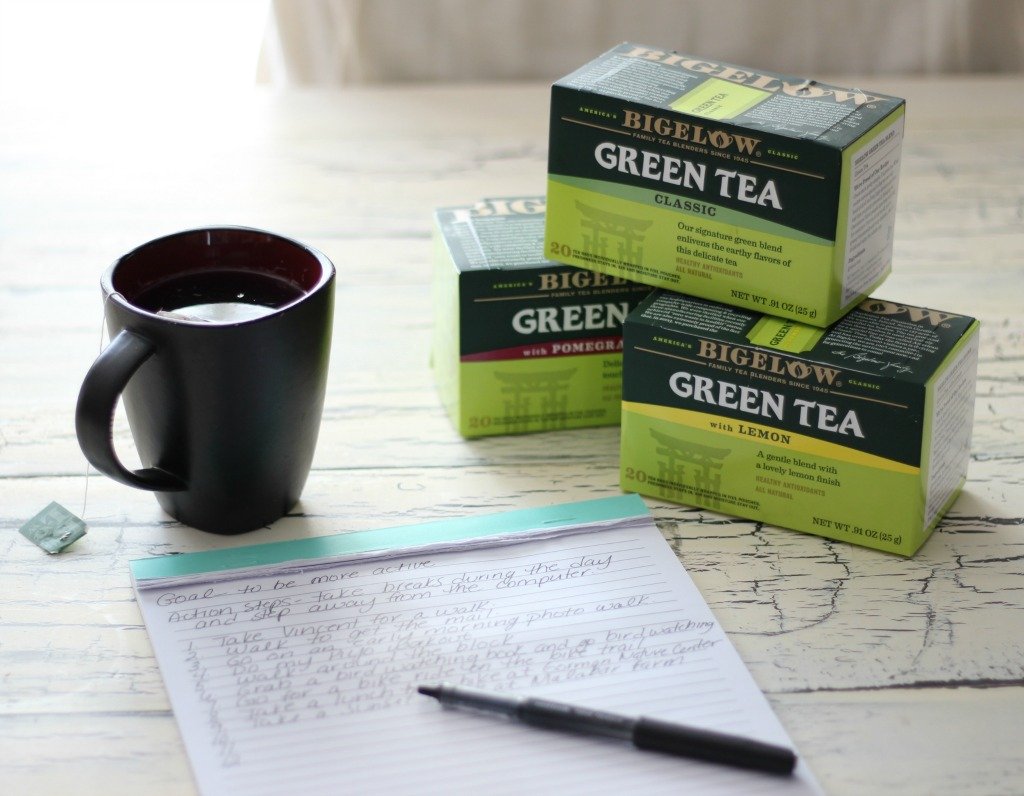 Drink more water.
I recently learned that the more water you drink, the less tension and depression your experience. Plus, staying hydrated helps you focus. For me, there's an added benefit. The more water I drink, the more trips I have to take to the bathroom which means the more steps I take. Don't laugh, I'll fit those steps in any way that I can.
Do your own grocery shopping.
This may seem odd to you, but I've recently discovered the shop-for-you feature at my local grocery store. I simply place my order online and drive to the store to pick it up. It may be convenient, but shopping is actually decent exercise when you're used to sitting at your desk, especially when you keep a fast pace around the store (watching out for other customers, of course).
Another tip to adding a few steps to your day is to leave the parking spaces nearest the store for other guests and park further out in the parking lot. This forces you to be a bit more active and allows those who may not be as mobile the opportunity to snag a closer spot.
Walk the dog.
I mentioned this before, but I'll add it again. Dogs need exercise too so not only are you taking care of you, you're improving your dog's quality of life too.
Go for a photo walk.
When I travel, I make it a point to crawl out of bed bright and early in the morning to take sunrise photos. I'm ashamed to admit that I don't often do that when I'm home. My new goal for the New Year is to capture those sunrises- no excuses. I plan to take that photo walk three times a week and I have a feeling once that becomes a habit, three times is going to turn into four or more.
Walk to the mailbox to get your mail.
This may not be a biggie for you. Walking to the mailbox could include walking to the front door. For me, walking to the mailbox includes a ¼ mile walk. Do you see how quickly my steps could add up?
Join a gym.
Okay, this is probably the best tip but I'm not quite ready for the gym. As an alternative, I purchased a couple workout videos to do at home. You can also watch videos on YouTube for some quick and easy exercises and stretches.
Instead of going out to lunch with a friend, choose to do something active, like going for a walk.
Don't forget your pedometer so you can track those steps!
Burn calories with recreational exercise.
Kayaking, hiking, riding a bike are all activities that I enjoy doing. And hiking can be done year-round with the proper equipment. So, bundle up and grab your ice cleats if necessary and hit the trails. Just keep in mind that even though it's cold outside, you do still need to stay hydrated so don't forget your water bottle.
Take a walk around the block.
If you live in town, this could be a quick 15-minute break. For me, a walk around the block is easily two miles. I'll definitely need to save that for one of my longer Pomodoro breaks.
Every time you go to the bathroom, do a few exercises.
A friend of mine shared that she does nearly 100 squats a day. Do you know how she fits them in? She does 10 squats each time she goes to the restroom. How genius is that? You can do squats from anywhere and it doesn't take long to do, but it sure does produce results.
Turn on the radio and dance.
You may not be ready to exercise, and if you're at that point, that's fine. But you do need to move. Get up and do what you can do. Play your favorite music and tap your feet and swing your hips.
Start with HIIT.
HIIT stands for High-Intensity Interval Training and while it typically only takes about 20 minutes to complete, it does burn tons of calories in a short time and prepares you for more intense workouts. Select a HIIT for beginners and the best part? You can do many of these workouts right at your desk. Rain or shine, hot or cold weather so you have no excuses.
Are you ready to grab a cup of tea and make plans for a healthier New Year and new you? You could win a really great prize package from Bigelow Tea. Simply follow the directions below to enter for a chance to win.
#TeaProudly #Sweepstakes (1/16 to 2/28)
You can learn more about Bigelow products by following them on Facebook, Twitter and Instagram.
What steps will you take in the New Year to help you have the best year yet?
Pin it: