During the month of May, I'm partnering with Word Traveling and nearly 30 other bloggers for 31 Days of Travel. Each blogger shares what travel means to us. Today I'm sharing why I believe travel is necessary.
I won't go into details here, but rather encourage you to pop over to Word Traveling to learn more.
While you're there, make sure you enter the Travel Giveaway worth over $1250, including a stay in gorgeous Hobe Sound, Florida.
Please click the image below to join us for the exciting Travel is… series and to enter the fabulous Travel Giveaway (Over $1,250 in prizes)!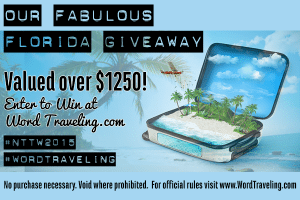 You can also register for our free Travel Savings Strategies Webinar on May 21st, by clicking this image: