This shop has been compensated by Collective Bias, Inc. and LISTERINE®. All opinions are mine alone. #BackToBold #CollectiveBias

When my husband and I married and wanted to start a family, we thought it would be a great idea if we had our kids close in age. So, we had three children in three years. Sound crazy? Let me tell you, there were days I thought I would go crazy. I barely managed to survive the infant, toddler, and preschool years, but after that things got easier.
I've heard people talk about how difficult the hormone-fueled pre-teen and teen years could be but fortunately ours were smooth sailing. My kids are now college age and I'm thankful for the relationship my husband and I have with them. Are they perfect? No, but they are pretty good kids.
And my husband and I continue to be very engaged with them, even now that they are branching out on their own. We shop with them for supplies for their house, travel with them, help them when they get stuck on a school project, and encourage them to live bold.
My kids are all very social and enjoy spending time with friends- whether that is long boarding, kayaking, jumping out of airplanes and skydiving, surfing in Mexico, or hanging from the rafters of a building while they practice rappelling, they need to feel bold and confident. And while the three of them are certainly adventurous, they love to spend time with their friends doing things that don't provide such an adrenaline rush.
Fun Activities and Things to do in Ohio for College Age Kids
Take a hike.
Ohio has many options for hiking, including many regions known for great hiking.  From local parks, to free state parks, to a national park, you'll find options for all abilities.
Go kayaking.
 Watch plays in the park.
Many parks feature free summer programs- from music concerts, to ballet, to plays based on the works of famous poets.
Plan a Pizza Crawl.
Pizza is a staple among college students, right? Why not seek out the best pizza places in an area by hosting an impromptu pizza crawl? Simply visit a few pizza places in your area and sample the pizza at each stop until you determine a favorite.
Visit indoor and outdoor markets in large cities to sample foods made popular from various ethnicities or seek out ethnic eateries in your own town to sample with friends.
Plan a day of thrift store shopping, or if you prefer, seek out bargains at one of Ohio's outlet malls.
 Discover your inner artist with guided instruction at a paint night at a local art center or other facility.
Indoor rock climbing is an activity that you can enjoy year-round and a great activity to do with friends.
Plan a road trip and see how many of these quirky attractions you can find.
From larger than life ears of corn, to dancing bunnies, to giant baskets, and the world's largest drum sticks, you'll find it right here in Ohio.
Go stargazing.
Ohio has several spots that are perfect for stargazing, including a dark sky park Geauga County. These parks offer premium star gazing with minimal light pollution.
Plan a movie marathon with friends.
Combine this activity with the pizza crawl by ordering takeout or ask friends to bring their favorite snack and sit back and watch your favorite trilogy or binge watch a season of your favorite TV shows.
Visit outdoor gardens.

Ohio has many parks and gardens to explore- from topiaries shaped like famous paintings to blown glass art works interspersed with the foliage, you'll find many indoor and outdoor gardens worth a closer look.
Take your photos with lighthouses along Lake Erie.

Stroll through a cemetery.
There are many historic cemeteries throughout Ohio that feature exquisite examples of funerary art. Grab a field guide to the various symbolism and explore at your leisure.
Go canoeing. 
Tour a castle.
There are several castles in Ohio that are open for tours.
Host a bonfire with friends.
Stock up on hot dogs and the fix in's for S'mores and plan a night outdoors retelling ghost stories by the fire.
Enjoy a barn dance.
Visit one of the many festivals held in Ohio.
Go for a bike ride on one of Ohio's bike trails.
Become a tourist in your city.
Discover your hometown through the eyes of a tourist. Pretend that you are visiting from out of town and visit your local visitors center for suggestions on things to do in the area. Pick a few of the suggestions that you may not have heard of or that sound interesting and spend a weekend exploring your city.
Go geocaching.
Visit an escape room.
Escape rooms seem to be all the craze right now and for good reason- they are crazy fun if you go with the right group of people. Grab some friends and chose your adventure and race against the clock to solve the mystery that will allow you to solve the puzzle and escape.
24. Learn a new skill. 
It's fun to learn a new skill with friends. Take a photography class, a cooking class or a glass blowing class. You may just find a new life-long hobby.
25. Plan a trip to on of Ohio's amusement parks. 
26. Plan a spa day with friends. 
Pack your PJ's and pamper yourself with face masks, pedicures, and breath freshening with LISTERINE® TOTAL CARE FRESH MINT and LISTERINE® TOTAL CARE ZERO ALCOHOL FRESH MINT mouthwash. No other mouthwash is more complete than LISTERINE® TOTAL CARE which helps prevent cavities, provides minerals to restore enamel, contains 7x greater fluoride than ACT®** mouthwash, cleans the entire mouth and kills bad breath.
**In a lab study 
Whether my kids are riding motorcycles with friends, enjoying an ice cream cone at one of the area parks, or planning a night out at a concert watching their favorite band, they want to feel confident and bold. One way they can do that is to ensure they have fresh breath. I buy LISTERINE® TOTAL CARE FRESH MINT and LISTERINE® TOTAL CARE ZERO ALCOHOL FRESH MINT mouthwash at Target.
LISTERINE® TOTAL CARE ZERO ALCOHOL has the same benefits with an alcohol-free formula for a milder, less minty flavor.
So, if you want to put your best foot, and best breath forward, give LISTERINE® TOTAL CARE FRESH MINT and LISTERINE® TOTAL CARE ZERO ALCOHOL FRESH MINT a try. And I have an offer that will save you money just in time for Back-to-School shopping. Buy 3, get a $5 Target Gift Card. The offer is good 6/29-9/9 and will be valid online and in-store. To make a purchase online simply click the photo below or visit this website.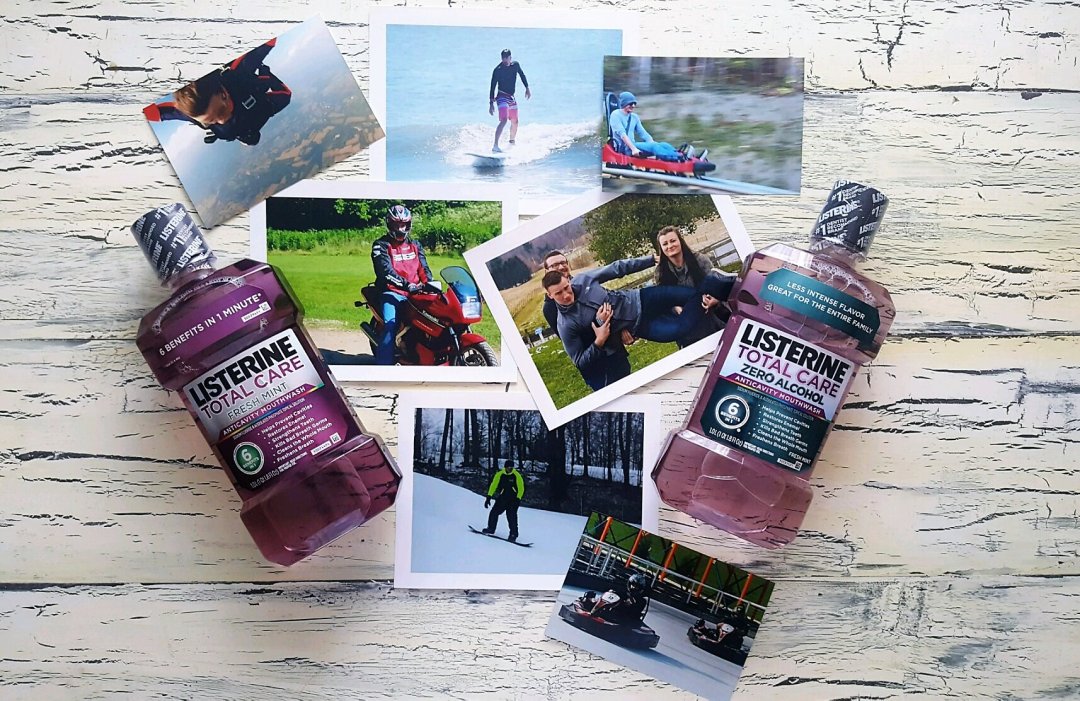 If you're going to do bold things, you need products that make you feel good about yourself.
What makes you feel bold? 
© 2017, Tonya Prater. All rights reserved.